PODAM Walk-through example
In this page we will go through a walk-through example to see how PODAM works in detail. We will explore how PODAM deals with the following scenarios:
Simple types
Wrapper classes
Strings
Container-type objects, such as Collections and Maps
Objects in the java, javax namespace
Custom objects
Graphs of objects
Immutable-like types
Let's start with the Domain Model of a simple graph of objects. The Model depicts a very simple scenario with the root element being a Client. A Client can place many Orders, each Order might have many OrderItems, each OrderItem defines an Article.
A Client can also have Addresses and BankAccounts.
An address is located in one Country.
This Domain Mode, although simple, demonstrates the full potential of PODAM, such as the ability to automatically fill graphs of objects and container-like relationships (such as Collections and Maps). It also shows that PODAM is capable of filling immutable-like POJOS (such as those with final attributes and a constructor, but not setter methods).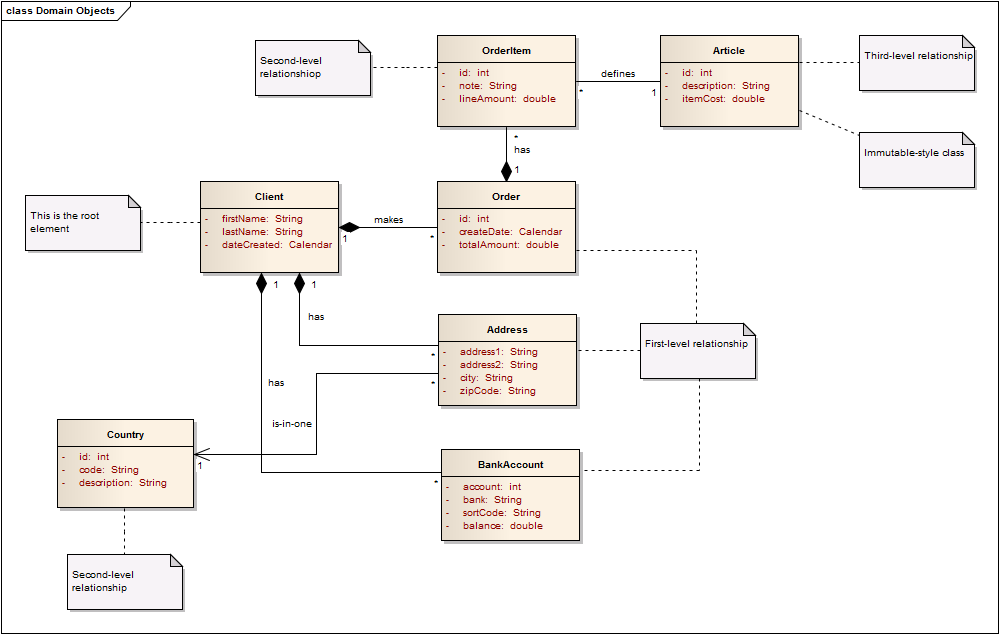 Let's start with the definition of the third-level and second-level domain objects.